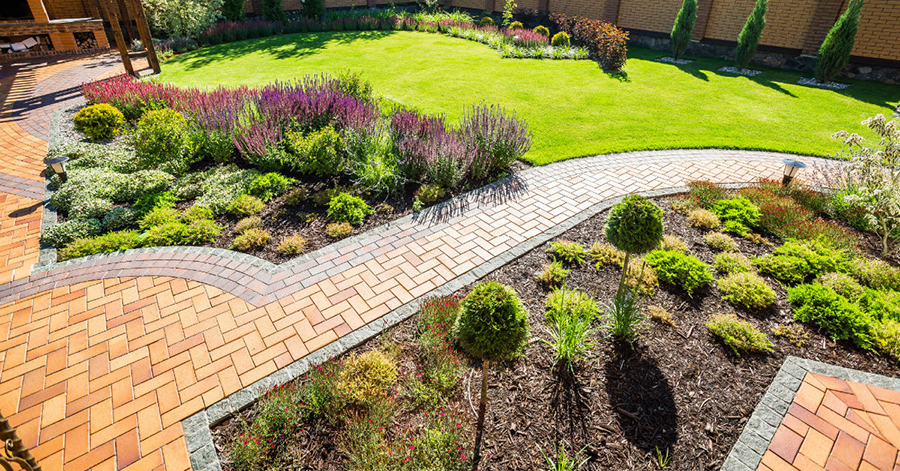 May in St George is a beautiful time. While our winters are not harsh, the lawns and plants do die back and take most of the spring to recover. However, by May, flowers are everywhere, lawns are green again and everything is starting to grow vigorously again.
With all this growth comes specific landscaping needs, and as your St George landscape experts, Stonetree has your landscaping tips for May.
Watering And Mowing Your Lawn
If you have been following our lawn care guide, you should have fertilized your lawn in April. So, if lawn fertilization has not happened, be sure to make time this May to treat your lawn with fertilizer. We like to recommend a mix of 25-5-10 fertilizer for spring lawns.
As for watering your lawn, as things heat up here in St George, it is important to be consistent in your watering schedule. You should set your sprinklers to water your lawn twice a week, for 8 minutes. We recommend watering some time between 4:30 am and 7:30 am, as this will allow your lawn to absorb the water and not lose most of the water to evaporation.
In May, your lawn will likely need to start being mowed twice, depending on whether or not you fertilized in April. If your lawn is growing well, Stonetree has a couple of mowing tips for you.
Set your mower blade correctly – Most St George lawns are a fescue-blend of grass, which means it is best not to mow them lower than a 1 ½ inches. So, be sure to set your mower blades to cut your lawn to this length.
Remove lawn trimmings – While not everyone agrees that you should remove your lawn trimmings, it best to remove them during the spring and summer. This will help your lawn breathe and allow more cool air to circulate.
Edge lawn early – If you jump on edging your lawn early into the growing season, it will be easier to maintain the clean lines of your lawn, rather than when it is fully overgrown.
Needed Tree And Hedge Care
By May in St George, your trees, hedges, and bushes should have all come back. If any of them have not and are still bare, that indicates that the plant did not make it through the winter and will need to be removed.
For those plants which did survive the winter, you will need to water them twice a week for 45 minutes. It is best if you have your trees, hedges, and bushes on a drip system so the water does not all run off and remove the topsoil.
Lastly, be sure to remove all dead flowers, branches, and leaves from your plants. They are able to grow better and stronger without this debris.
Weed Early And Often
Much like with edging your lawn, it is important to weed your yard often during May. While we do recommend spraying for spurge and crabgrass in June, you can do so in May if you notice that your lawn is prone to early invasions of these grasses.
If you need help with your landscaping, whether due to plants not coming back or you're ready to change your landscaping, be sure you contact us, your St George landscaping experts.