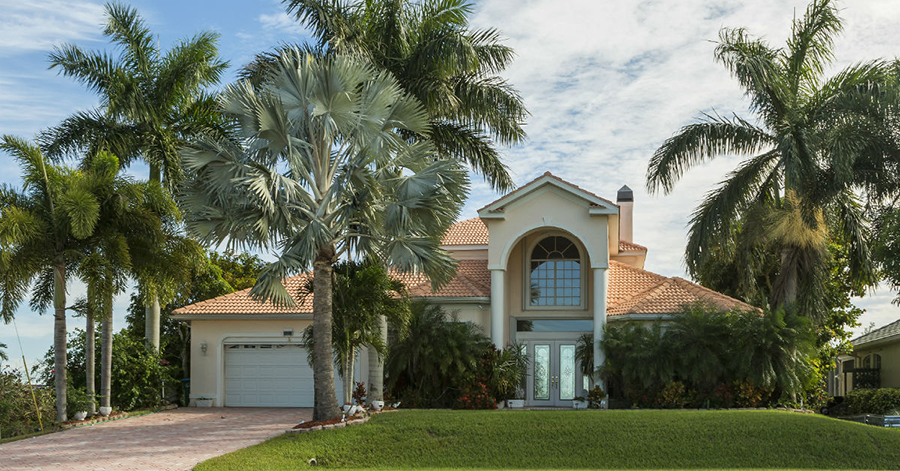 Proper care for your St George landscaping in June is vital to your landscaping's health throughout the summer. If you follow our landscaping experts' tips for June, your landscaping should be in good shape to meet the scorching heat of the summer.
Fertilizing Your Palm Trees In June
You should not be using the same fertilizer on your palm trees that you will be using on your lawn or other plants. Palm trees respond best to a different mix of nitrogen and other nutrients that are not ideal for other features in your landscaping.
We recommend a fertilizer mix of 14-4-14 for the fertilization of your palm trees. This will give their leaves a vibrant green color.
Treating Your St George Lawn
June is a fertilizer month for your lawn as well as your other plants. We would recommend you use a fertilizer mixture of 25-5-10 on your lawn, with the higher nitrogen level encouraging your grass to remain bright and green throughout the summer. However, before you fertilize your lawn, you may want to treat it with herbicide.
To keep your lawn lush and free of spurge and crabgrass, treat your lawn with a herbicide which specifically addressed the removal of these invasive grasses. Perform this eradication treatment prior to fertilizing or you may be encouraging these weeds to grow.
Also, resist the urge to overwater your lawn or any other part of your landscaping. You can overwater your landscaping and drown it. Worse, a lawn which is wet once night comes can develop fungal infections. Be sure your sprinkler system is programmed to match up with our lawn watering guide.
Caring For Your Plants And Other Landscaped Features
Unlike your lawn and your palm trees, your plants do not need high nitrogen to appear attractive. As you look for a plant fertilizer, check to see that they have less than 7% nitrogen in the mixture.
If you have perennials as part of your landscaping, they may be fading in this heat and you should start considering what you want to replace them with later this summer.
As for other features in your landscaping such as a block wall, paving stones, and other masonry features, summertime is an ideal time to have them repaired if they are in need of repairs. The prolonged dry periods without rain makes it easier to make these masonry fixes.
If your landscaping is in need of expert care, contact us. We are the premier landscapers for St George as well as the surrounding communities and are ready to help you achieve your ideal landscaping.