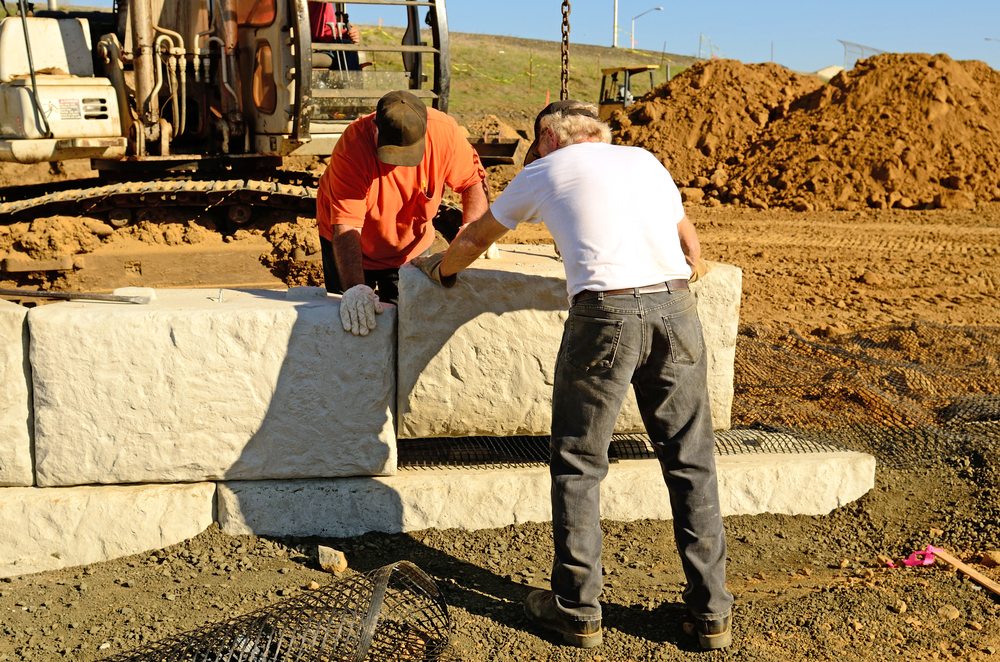 There are several types of retaining walls, but the most common and popular is a block wall. This popularity is due to a variety of factors, from structural integrity to customizability.
If you have been debating on whether you should have a block retaining wall installed, your local landscaping experts are here to provide you with the pros and cons of building this type of retaining wall.
Pros Of Block Retaining Walls
With block retaining walls, there are many positives you can enjoy. Some of these pros may resonate more with you than others, but either way, it is clear why block retaining walls are highly popular and common among homeowners.
Highly Affordable
One of the major appeals of a block retaining wall is the affordability of the materials. The blocks are made from poured concrete, which is one of the cheapest and most widely available materials. Since the materials to make retaining wall blocks is so cheap, and they are poured into set molds for mass production, it makes sense that the blocks are so affordable.
With these affordable blocks, you can more easily build terraced retaining walls or any sort or retaining wall that requires a large number of materials to construct.
Several Ways To Stack
Depending on your retaining wall project, block retaining walls provide a variety of ways to stack that allows you some flexibility in your design. The stacking systems you will usually see are:
Solid Stack– Most basic of the stacking system, the solid stack has you stacking solid blocks and layering with mortar to hold your wall together.
Hollow Blocks– With the blocks that are hollow in the center, they rely on you stacking them up then pouring gravel into the hollow spaces. As the hollow areas fill up, the block retaining wall will become nearly as strong as a solid block wall.
Pin System– If you are interested in the pin system, you will need to choose blocks that come with small pin holes. In these pins holes, you will place pins to help lock the blocks in place.
Lip System – By choosing blocks with the lip system, each succeeding row of blocks will be stacked with a small lip on the back of the block to lock it into place. This system creates a slight steppe look, so consider that as you choose your block stacking system.
Various Colors Available
Often, block retaining walls are grey, tan, or pale red shade. However, if you are looking for a little more variety, you can find retaining wall blocks in a variety of colors, from more earthy sage to a blend of berry colors.
You may not find these things at your local home improvement store, but your local landscaping experts can help source the colored blocks you are looking for when it comes to your retaining wall.
Different Block Shapes
There is some variation in the molds used to create the blocks for retaining walls. That way, you have some options when you have your wall built by our team of professionals. However, some blocks may need to be cut down, as it would be unusual for your landscaping to perfectly fit the proportions of these bricks.
Potential Cons Of Block Retaining Walls
There really aren't that many potential cons of block retaining walls, which is part of why this type of retaining wall is so common. Also, the cons that do exist may not be cons for you. So, keep that in mind as you consider these potential cons.
Not As Decorative As Some Options
When you consider the other retaining wall options, from the hues of wooden retaining walls to controlled chaos of natural stone walls, block walls can look a little less attractive. However, in many cases, the retaining wall is more sculptured support for beautiful landscaping.
Standard Sizes And Colors Makes Wall Less Unique
While there are some size and color options, part of what makes block walls affordable is how uniform these blocks are in general. That very uniformity can take away from the overall uniqueness of your retaining wall.
Can Be Hard To Handle On Your Own
One of the major potential cons of block retaining walls is how much work it can be for you to construct yourself. These concrete blocks are heavy, even the hollow ones, and that can make it quickly tiring to build your wall.
Also, if you aren't used to building retaining walls—and really, most people aren't—it can be tough to shape your block retaining wall when you run into corners and curves. At these points, you may need to cut your blocks, and you may not have the tools to do so.
But when you choose Stonetree's contractors to construct your block retaining wall, you can throw this con out. Our team has the tools and the experience to make the construction fast and safe, so you can sit back and relax instead of straining yourself over piles of blocks.
To have expert, insured contractors build your block retaining wall, contact us for a bid on your future project.