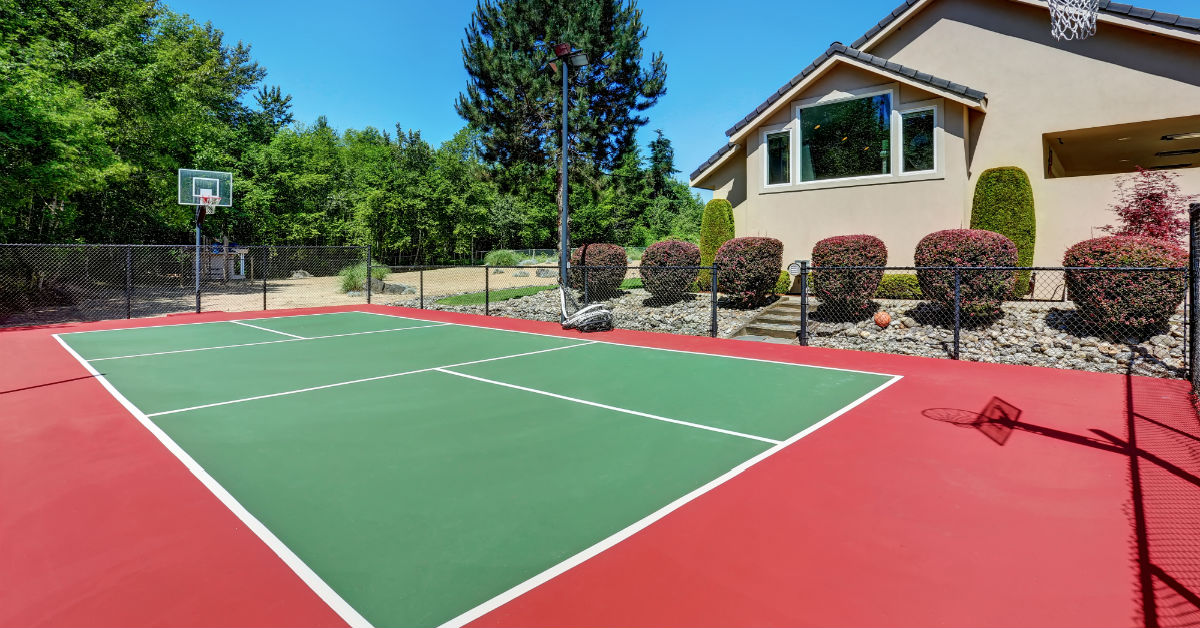 It can be tricky to incorporate a space for sports into your already perfect landscaping. Owners who don't want to detract from the beauty of their yards may struggle to see how to bring in functionality.
It is possible to have an area for sports and have it blend attractively into the established landscaping. To give an idea of how this is possible, we will cover a couple of the most popular yard sports spaces.
Yard Space For Basketball
A basketball hoop attached to the garage is a simple but less than elegant solution to having a place to play basketball. Instead, you can choose to have a section of your landscaping set aside for the creation of a basketball court. Some considerations before you decide:
Positioning – Is the court going to be in the front or back yard? Also, when are you going to utilize the court most often? Depending on the time of day, you may want to have the hoop fixed where the sun will not be directly in your eyes. Or if you want to be able to use it at variable times, you may want a movable hoop and stand which you can reposition.
Aesthetic – You have options when it comes to the look of your potential court. It can be made with these materials: concrete, asphalt, copolymer tiles. The tiles come in a variety of colors so you can customize the look of your court. There are also rubberized texturizing coating products which you can apply to concrete to customize the color and create a non-slip surface.
Size – Unless you are prepping a child to become a professional basketball player, it is unlikely you need a full-sized regulation court. Consider the space you want to dedicate for playing and work with your landscapers to find the exact measurements.
By using products which can customize the color of your court, you can keep your landscape attractive and have a functional basketball space.
Golf In Your Own Yard
With the temperate weather enjoyed in St. George, it's no surprise golfing is a favorite pastime here. But the cost of playing a game can make it less attractive, especially if you just want to play for a short time.
It is possible to add a putting green to your own yard and still maintain your landscaping. Should you want to do this, we recommend:
Add interest – If all you wanted to do was putt in a straight line, you could just buy one of those putting mats. To add interest and make your putting green an entertainment point for you and your guests, create difficult patches. Sloping mounds, small sand traps, and a few different holes to putt into will help keep your green interesting.
Place lighting – If you want to use your green to the fullest and not be confined to the whims of the sun, you can have lighting placed strategically around your putting green. This will lengthen the usability of your space.
There are some things you should avoid as you are planning out your personal golfing space.
Close but not too close – You will want your green close enough to the house to make it usable for both yourself and guests. However, accidents happen and you don't want a golf ball to go through the bedroom window! To help avoid this, keep the green at least 6' away from your house.
Chose artificial turf – We know it's strange for the best landscaping company to recommend artificial grass but it is for a good cause. Turf is easily damaged by golf clubs and you don't want to be constantly patching your grass. Your landscapers should be able to blend the artificial green and your real grass together naturally.
Most importantly, you should feel as if your yard suits your needs. So if you want to add a space for sports into your yard but are afraid to disrupt your current landscaping, keep these ideas in mind as you consider your next project.