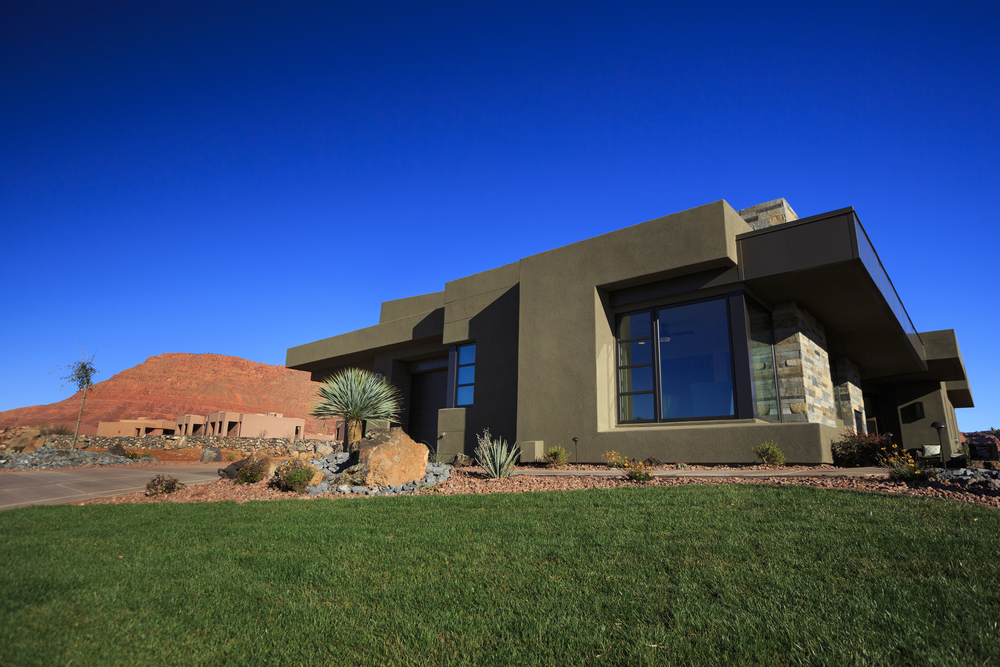 It can be disappointing to see a plant die away even though you have been caring for it carefully. However, it's not likely due to not having a green thumb. In reality, it is likely your plant died due to the hot and dry climate of Southern Utah. But you don't have to undergo the roulette of buying and planting to discover if your plant is going to thrive.
Here at Stonetree, our landscaping experts know just what is going to flourish in St George and the surrounding areas. To help guide your next planting choices, we have several types of groundcover, accent, and grasses which you can use and enjoy watching grow.
Ideal Desert-Hardy Plants
Due to the amount of water required to maintain a flower bed in the desert, it may make more sense to opt for a few attractive and desert-hardy groundcover plants. That way, you can soften your landscaping with color and have any gaps filled in by plants that won't die away the first time temps hit 100 degrees. Below are a few suggestions on groundcover plants for your yard.
Perky Sue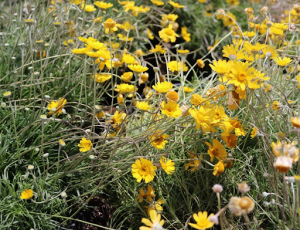 Not your typical kind of desert, the Perky Sue (Hymenoxys acaulis v. Ivesiana) is a hardy daisy sporting perennial. It tends to bloom from mid-spring to late summer, adding color to any landscaping. The Perky Sue needs full sun and is best mulched with gravel to help encourage drainage.
Best of all, aside from regular watering to establish this plant during its first growing season, all you need to do is occasionally deep water it to keep it healthy and happy.
One caveat is if your garden has a heavy concentration of clay soil, the Perky Sue may not be the best choice, as it needs soil which allows drainage. Some areas in St George have more clay in the soil, so be sure to check before buying this particular plant.
Blue Evolvulus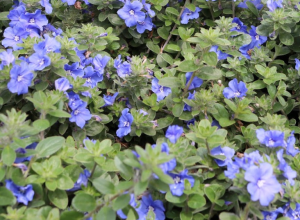 For an attractive lawn border, the Blue Evolulus (Evolvulus nuttallianus) is a great option. It grows to be only around 12" wide and tall, and it will sport masses of blue flowers starting from the late spring. The Blue Evolvulus can flourish in full sun, though should be planted where reflected light won't scorch it.
You will need to water it regularly during its first growing season, but after that, it will only need infrequent deep watering to stay healthy. In extreme heat, you may want to deep water it once a week.
Rocky Point Ice Plant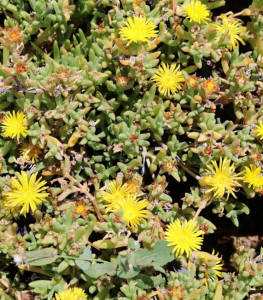 If all you want is a tough, plant that will spread to fill in the gaps in your landscaping, the Rocky Point Ice Plant (Malephora lutea) is a groundcover plant you should consider. It will only grow to be about 1" tall and spread to cover around 6', which is excellent especially if you have chosen a predominately xeriscaped yard aesthetic. Small yellow blossoms will brighten up the Rocky Point Ice Plant, and it will thrive during the high temps of summer.
It will do well in full or partial sunlight as long as the soil has good drainage. Once you have your Rocky Point Ice Plant established, it will only need infrequent watering.
Attractive Accent Plants For Your Garden
If you are looking for plants which will make a statement in your landscaping but not become water hogs, we have some attractive accent plant options for you to choose from.
Brakelights Yucca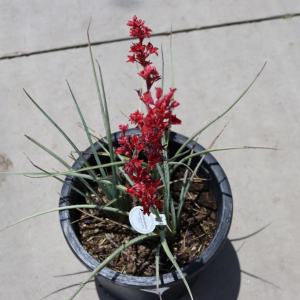 While it starts out small, the Brakelights Yucca (hesperaloe parviflora) will grow to a showstopping height, with the green foliage reaching 3-4' tall and wide with the flower section reaching between 4-6' tall. The brightly-colored flowering stalks of the Brakelights Yucca make it a popular choice in many yards, especially since the flowers tend to hang on longer in warm areas like Southern Utah.
The Brakelights Yucca can be planted in full sun with no issue and only needs regular watering to first establish it. After that, it only needs periodic watering to stay healthy as it is a very drought-tolerant plant.
Hens and Chicks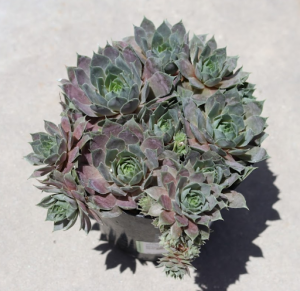 As it grows in compact clusters, the Hens and Chicks (Sempervivum) makes an excellent groundcover and accent plant, with its multi-colored foliage and its habits of extending out "chicks" and covering bare areas in landscaping.
The Hens and Chicks do best when planted where they can receive morning sunlight but be shaded during the heat of the afternoon. It will also only need infrequent watering, as this hardy succulent does fine without much water.
This plant does need good drainage around its roots, so you may want to amend clay soil in your landscaping with gravel, sand, or lava rocks.
Color Guard Yucca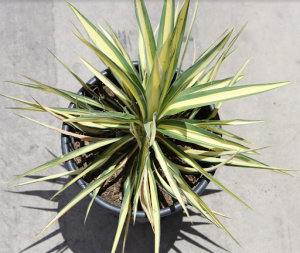 A variant of yucca, the Color Guard Yucca (Yucca Filamentosa) can reach between 4'-8' tall and 2'-3' wide, creating a lovely accent when their flowing stalks bloom in the late spring or early summer. While it can do well in partial shade, the Color Guard Yucca is best in full sun, which makes it excellent to fill in gaps in your yard.
It is very tolerant of heat and only needs deep watering for the first growing season. After that, it will only need occasional watering to keep this plant healthy.
For more ideas on what plants will do well in Southern Utah, be sure to check out our plant guide.