Your lawn will need to be mowed regularly during the growing season. The provided chart will give you a good schedule to follow when it comes to mowing times. It is likely you will have questions outside the scope of this chart. Below are basic pointers for mowing your lawn.
General Tips
Keep your mower blades sharp. This will ensure you get an even cut on your grass and prevent fraying damage.

For fescue grass, keep the grass height between 1 ½ – 2 inches. This is a good and healthy height for your grass which will keep it green, full, and properly ventilated.
Mulching can be a useful practice but this is a form of advanced lawn care. We recommend that you catch all of your clippings. By leaving layers of cut-up grass and leaves on top of your lawn, you dramatically increase the chances of developing a fungal problem.
Your
General Tools
For basic lawn maintenance, you will need a lawn mover as well as a trimmer for those hard-to-reach areas of your yard. Basic lawn mowing options include:
Manual-reel mower – This blades on this mower are powered the person pushing it. This is a good option if you have a small/flat lawn or don't wish to store gasoline.
Push mower – Models are available in electric or gas, you still need to push these mowers but electronics power the mower's blades. These work well on yards of any type, up to a ¼ acre.
Self-propelled mower – Also available in electric (battery or cord) or gas, these mowe need guidance but minimal pushing. They are good for both flat and sloped yards.
Riding mower – Most riding mowers are gas-powered and you usually won't need one of these unless your lawn is over a ½ acre. These work well on flat and sloped lawns but go slow as you make turns on sloped lawns to avoid overbalancing.
Robotic mower – This little mowing robot cuts the grass for you once you've set up it's perimeter wire. It will criss-cross your yard randomly and put itself back on its charger when it need recharging. Good for up to ¼ acre yard
As for the types of string trimmers (also known as weed whackers), there are:
Gas-powered trimmer – Best for large yards with many hard-to-reach areas. Generally weighs between 10-13 lbs
Corded-electric trimmer – Lightest trimmer (under 10 lbs), it is good for yards under ¼ acre.
Cordless-electric trimmer – Great mobility but best used for smaller yards as the batteries usually only have 30 minutes of continuous use in them. Weighs between 10-12 lbs.

To give your lawn the professionally maintenanced look, you can use:
Edger – There are manual and mechanically-powered (gas/electric) edgers that will give your lawn's edges a sharp and finished look. By using an edger, you can create a clean line separating your lawn from the bordering sidewalk.
Leaf blower – To speed up lawn clean up, you can use a leaf blower to gather up your lawn debris. Once gathered, you can dispose of the green debris and help prevent fungal infections that could occur in the decaying plant matter.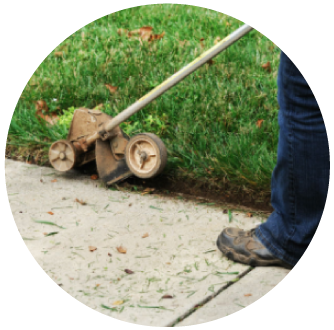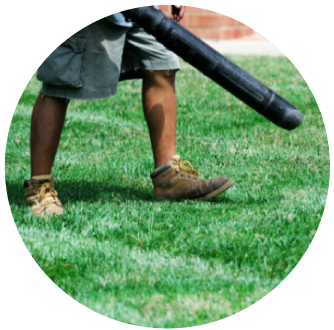 Common Mowing Mistakes
There are some things to look out for when it comes to mowing your lawn. These things are:
Scalping your grass – In an attempt to mow less often, you may be tempted to cut your lawn very short. Avoid the temptation, as scalping your lawn will cause it to need more water to recover from being cut too short.
For your fescue-blend lawn, anything shorter than 1 ½ inches would be considered scalping your lawn.
If you have scalped your grass, water deeply (extra ½" – 1"; 5-10 minutes) for a 2-3 weeks to allow your yard to recover.
If it is scalped bare in patches, you will need to reseed the area with fescue seeds.
Mowing the same path – You may want to follow the same path each time you mow because you like the pattern or because it's the easiest path to follow but do not do this. Rotate your mowing pattern at least every other time you mow to avoid wearing patterns in your lawn.
Setting blades too high – Attempting the opposite of scalping, if you set your blades too high (more that 2" for fescue) you will create a higher thatch layer. This can prevent water and fertilizer from reaching your grass roots. It also increases your odds of growing fungus by limiting air flow within the grass.