No one is perfect and neither are lawns. Even the best cared for lawns can run into problems, ranging from weeds to grass death. Below are issues you may encounter and how to deal with them
Animal Damage – Depending on what animal is tearing up your lawn, you will need different solutions.
Squirrels – While they may make a few holes in your yard, their lawn damage potential is minimal. Garden netting will prevent them from digging in any areas they've begun to disrupt.
Racoons/skunks – These critters are looking for grubs to eat as they tear up your yard. Keeping it grub-free is the best control, as they will look elsewhere for food if there is nothing to be gained from your lawn. If you have a grub problem, ring the perimeter of your yard in garden netting to keep racoons and skunks out while you work to eliminate the grubs.
Moles/voles – These animals are also attracted to your lawn by grubs so they may be a good indicator that you need to get some grub control underway. Besides fixing your grub problem, traps and poisons can be used to eliminate any moles/voles living in your lawn.
Poor Root Development – Overwatering may keep your soil too wet for the roots to develop a deeper hold on the soil. It can also encourage disease growth and insect infestations. Stick to your watering schedule and water deeply if the grass is wilting.
Fungus – There are many varieties of fungus and mold that can develop in your lawn. However, as you can control for factors like removing thatch, and watering appropriately, your dangers of this will be lessened. Should a fungal infection take hold in your lawn there is nothing you can do to reverse it. Focus on removing the infection from your lawn by sprinkling powdered laundry detergent on the infected site to prevent spreading. You'll then have to cut out the infected patch of grass and replace.
Dead Grass – Particularly mystifying is how dead grass can appear in a mostly healthy lawn. Once you are certain you are not overwatering or have an insect infestation, be sure that the thatch isn't too thick in that spot for proper water penetration.
Grubs – Check for grubs by cutting a 6"x6" square on three sides and pull up section. You may want to sample several (3-4) sections of your lawn to be sure you have no infestation. If you do find grubs, treat your lawn with incesticide.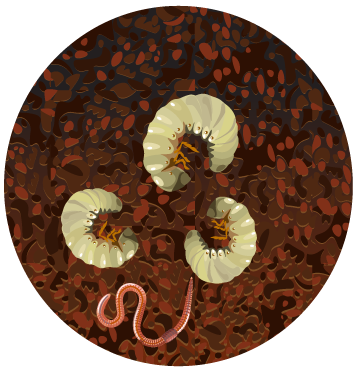 To keep your lawn grub-free, be sure to spray insecticide in early April to kill the eggs. A second application in the first week of July will ensure you kill the grubs that managed to hatch. For more information on treating your lawn, read "Fertilizing Your
Weeds – Sometimes what is and isn't a weed is in the eye of the beholder. Where some see a rosebush, others may just see a spiky bush that makes them sneeze when it flowers.
However, there are certain weeds like dandelions, which most adults agree are a serious pest. Pre- and post-emergent weed killers are good for dealing with these pests.
As for weeds common in St. George, UT
Whorled milkweed
Silverleaf nightshade
Canada Thistle
Field Bindweed
Houndstongue
Quackgrass
Saltceda